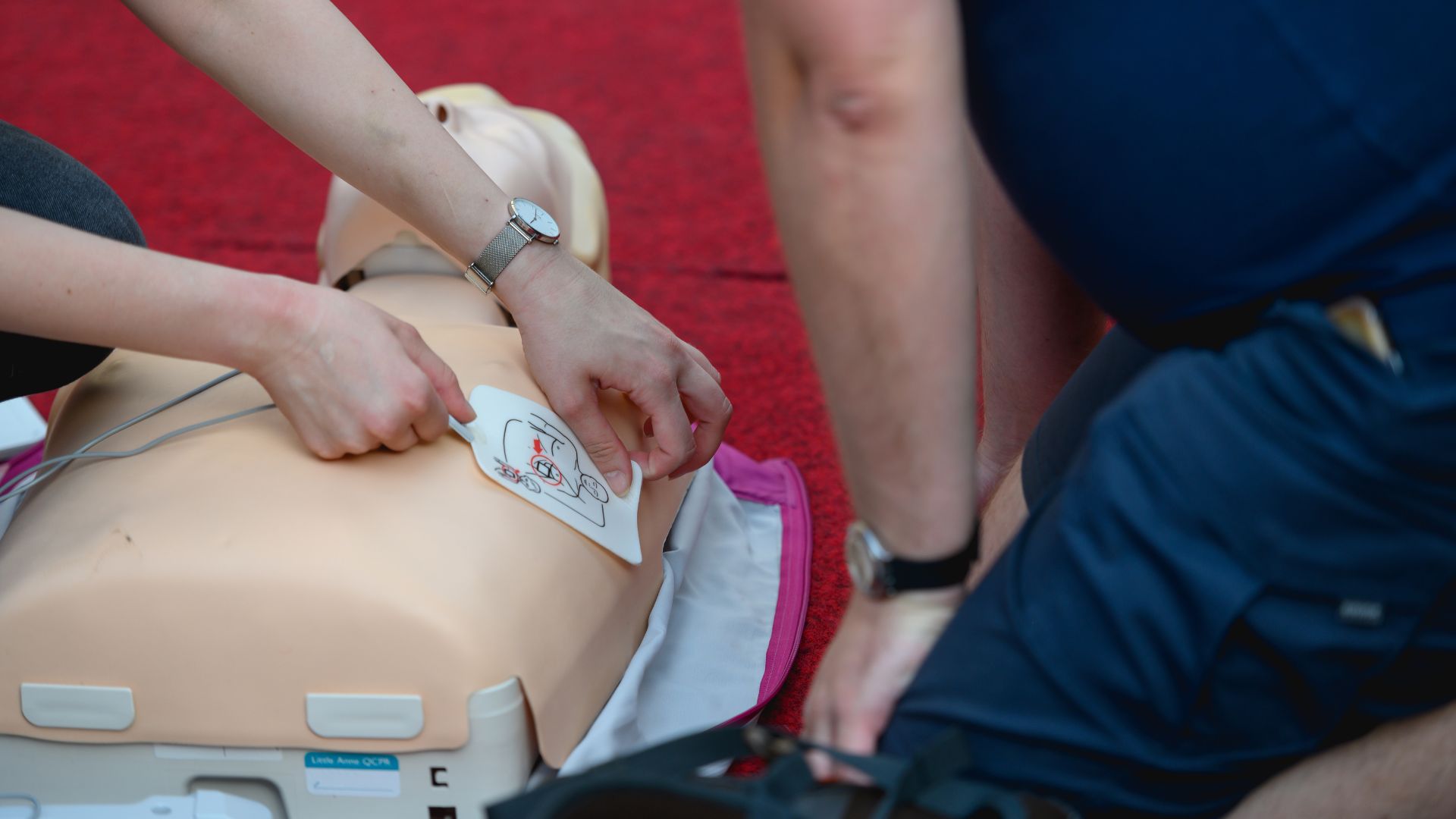 CPR education won't take more than a few hours but can save numerous lives. However, it's often overlooked by the general public. Considering that 436,000 Americans die from cardiac arrest in only one year, we have to pay more attention to CPR training.
Cardiac arrests usually occur outside hospitals and require urgent action. Finding yourself in that kind of situation will probably cause you to panic, but not if you're prepared beforehand. CPR training won't only teach you the necessary steps but will also help you cope with stressful situations.
Every person's life matters, so it's time we take things seriously. We'll delve into different levels of CPR and help you choose the most convenient for you. After all, it's better to perform bystander CPR than just being a mere bystander.
What CPR is and Why It's Important
Cardiopulmonary resuscitation (CPR) is a life-saving procedure that's performed in emergency situations, such as near drowning or cardiac arrest. If a person's heart stops beating, death can occur within minutes if we don't take urgent measures.
It just so happens that a healthcare provider won't be immediately available, and a layperson will have to take over. Studies show that patients who've received CPR from laypeople have a higher chance of survival. In fact, out of 29,711 patients, the survival rate for those who didn't receive bystander CPR was 2.2%, and 4.9% among those who did.
If a person is in cardiac arrest, their heart has difficulty pumping sufficient blood to the rest of the body. CPR is helpful because it mimics the heart pumps and can help the blood to flow to the brain and the other vital organs. Patient survival rates can double or even triple when CPR is performed.
It's very important not to confuse the terms ''cardiac arrest'' and ''heart attack''. Performing CPR on a patient who's having a heart attack won't help them. Instead, call 911 because they need immediate medical care. Knowing the difference also plays a huge role in saving a person's life.
Moreover, most cardiac arrests happen at home. In fact, around 350,000 cases happen outside of the hospital each year, and 7-10 of these happen at home. Sadly, more often than not, these individuals don't receive immediate CPR from bystanders. That's why understanding the different types and levels of CPR training and enrolling in a course is vital.
Different Types of CPR Training
CPR training should be on everyone's to-do list. We don't know what kind of situation we'll find ourselves in, but it's definitely worth it if our intervention helps save a person's life. Different individuals require different types of CPR training. If you're unsure where to start, we'll break this down for you.
CPR Training for Schools
We learn so many valuable things at school, but it's time we also include life-saving techniques. With students, administrators, and educators being properly prepared for CPR, the schools will be an even safer environment.
Starting with an agreement, the American Red Cross offers health and safety programs for schools that will adopt their training. They will exclusively prepare adult members of the school in CPR and first aid, so they can later transfer that same knowledge to students. However, these programs focus on a hands-only approach to CPR.
The American Heart Association offers ''CPR in Schools Training Kit'', which is easy to use and can help you train around 10 to 20 students at a time. It mostly focuses on teaching the students about the simple steps of hands-only CPR, along with the automated external defibrillator (AED), and choking relief.
Workforce CPR Training
The American Heart Association offers the ''Heartsaver Virtual'' – faster and flexible CPR and first aid training. It consists of a training kit and app solution to take a virtual hands-on skills session online with an instructor. It's available throughout the US and can help anyone deal with emergency situations. It's very important to acknowledge that only 50% of people are able to locate an AED at work.
The American Red Cross offers training programs for organizations designed to help them build safer workplaces. Every year, they provide resuscitation and preparedness training to more than 4.8 million people. The program consists of training services and materials to help you create the right one for your organization. Every participant will receive a two-year certification after successfully completing the course.
CPR for Healthcare Providers
Patients should always be treated with the best care. However, even for a healthcare professional, it can be demanding to follow the latest methods for CPR. With the ARC's CPR for healthcare providers, you'll always be up to date with the latest techniques, which include:
These classes are in-person, along with simulation training, which gives you the opportunity to learn online, but at the same time, complete the hands-on training in a classroom setting.
Different Levels of CPR Training
Regular people should also be provided with CPR training; however, these courses aren't the same as those in the medical field. The A, B, and C levels are targeted to a particular audience and will teach participants the most crucial CPR procedures.
CPR Level A
Of the various levels of CPR training, Level A is the basic one. As the name suggests, it's recommended for rescuers who wish to learn about performing basic CPR. It consists of CPR, choking procedures, as well as early defibrillation.
Suitable for adults, this training is mostly required in workplaces and homes. It can be mastered in a few hours but will still provide you with sufficient knowledge about treating life-saving emergencies.
CPR Level B
This course applies only to those who want to learn life-saving techniques that involve children and infants. Nowadays, it's crucial for parents and childcare workers to possess these skills, as the studies suggest that around 3,628 individuals younger than 18 years are subject to out-of-hospital cardiac arrests.
This level is actually a supplement to level A because it lacks adult treatment methods. Upon completing this course, you will be specialized and certified to deal with life-saving emergencies in children and infants.
CPR Level C
The third level is more advanced since it combines techniques from A, B, and C courses. It's applicable for children, adults, and infants and involves the two-rescuer CPR skills. It's mostly required for lifeguards, firefighters, and the police, and upon its completion, you will be certified in dealing with almost every CPR emergency situation.
Steps for Performing CPR
Taking everything into account, it should be mandatory for everyone to possess CPR skills. Getting certified is not hard at all; it just requires will and determination. You can check with the American Heart Association and the American Red Cross to find the most suitable classes for you.
However, even with certification, if you don't use these skills in everyday life, they might be slightly forgotten, so you can print out the below-listed steps and use them to remind yourself occasionally.
Ensure site safety, and don't forget to use personal protective equipment.
Check the person's breathing or if there are other life-threatening conditions, such as bleeding.
If the person is unresponsive, call 911 immediately, or even better, let someone else do it, so that you can focus on the CPR procedure.
Place the person on a flat surface until they're on their back.
Give 30 chest compressions (make sure your two hands are centered on the chest, your elbows are locked, and push down at 2 inches at a rate of 100 to 120 per minute, and provide rescue breathing of 2 rescue breaths).
Continue with the procedure until the person becomes responsive or medical assistance arrives.
Bottom Line
All in all, CPR does save lives, so it's very important for everyone to know what to do in cardiac emergencies. Remember – every second is vital, so immediate measures have to be taken upon collapsing.
It's obvious that some people don't take CPR seriously enough. Once we help everyone understand how vital it is to possess these skills, we'll hopefully contribute to reducing the number of people dying from cardiac arrests. That said, there's no need to overthink. It's time for you to take the initiative, gather knowledge about the types and levels of CPR training, and finally enroll in a course.